Sacramento Dry Rot Repair
SACRAMENTO DRY ROT REPAIR EXPERTS
If you need dry rot repair or termite damage—we can help.
We repair damaged siding, dry rot, termite damage, broken beams, and wood posts. Our expertise includes Sacramento dry rot and Sacramento termite damage—and repair for exterior wood structures. With proper licensing, bonding, and insurance, we take pride in delivering the highest quality repairs—promptly, effectively, and guaranteed.
Don't Let Dry Rot Or Termite Damage Destroy Your Home
Sacramento Dry Rot Repair and Termite Damage Contractor
There's still time to do your repairs before more damage occurs.
SFW Construction specializes in high-quality residential building repairs and is a pioneer in effective dry rot treatment for homes and businesses. We exceed industry standards, using premium products and employing experienced carpenters who receive ongoing training on the latest installation methods and building science. Established in 2005, we have served thousands of satisfied homeowners with dry rot and termite-related issues.
We Are a Top-Rated Sacramento General Contractor
SFW Construction is a licensed, bonded, and insured contractor. We specialize in Sacramento dry rot repair and termite damage.

"I used SFW Construction to repair some large pieces of siding that had water damage. Scheduling was easy and within an appropriate time frame, and they showed up exactly on time the morning of the work. They gave a thorough overview of what they were looking for and what needed to be done and highlighted safety protocols they'd follow. The work was done the same day (even after I added some additional items), and the cleanup was perfect. The price was in line with what we were expecting. I'll use them again for upcoming projects."
—Doug, April 2023
Our Services
Our extensive experience in the Sacramento Valley and the Bay Area has given us a deep understanding of how the local weather can deteriorate older homes. We have witnessed the consequences of inadequate repairs performed by inexperienced and hasty contractors who fail to do the job correctly the first time.
Sacramento Dry Rot Repair
At SFW Construction, we understand the importance of addressing dry rot promptly and effectively. Our expert dry rot repair services in Sacramento provide a lasting solution, isolating the source of moisture intrusion and eliminating the rotted areas with surgical precision.
A Common Threat to Sacramento Homes
Dry rot is a damaging fungal decay caused by excess moisture. It poses a significant risk to homes in Sacramento due to the area's fluctuation temperatures. SFW Construction specializes in effective dry rot repair solutions.
Understanding Sacramento Dry Rot and Its Impact
Dry rot spreads quickly, weakening homes and leaving noticeable signs like discoloration, musty odors, and cotton-like fungal growth. Timely intervention is vital to preserving the stability and appearance of homes and combating the effects of this destructive decay.
Tailored Sacramento Dry Rot Repair Services
SFW Construction provides customized Sacramento dry rot repair services, addressing the unique needs of Sacramento homes. Our skilled teams excel at identifying and eliminating dry rot by isolating moisture sources, preventing further harm to structures.
The Lasting Solution: Repairing and Restoring
Our thorough dry rot repair process goes beyond surface-level fixes. We tackle underlying issues and implement durable solutions, ensuring the structural integrity of homes.
Preserving Sacramento's Homes
Preservation is paramount in protecting the value and longevity of Sacramento homes. Choose SFW Construction for professional dry rot repair services, shielding your home from the devastating effects of dry rot. Trust SFW Construction for effective Sacramento dry rot repair.
Sacramento Termite Damage Repair
SFW Construction is the contractor to trust for top-notch termite damage repair in Sacramento. Our reputation as the go-to termite damage repair specialist is well-earned, thanks to our extensive experience and unwavering commitment to excellence.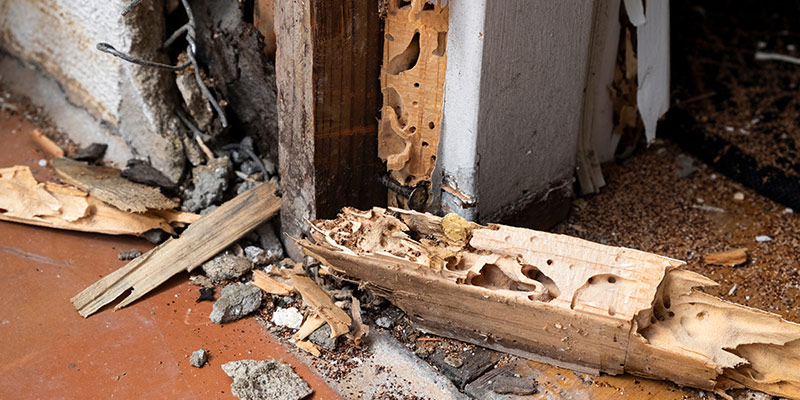 Pioneers in the Field
We pride ourselves on being pioneers in the industry, specializing in properly treating termite damage. We've developed cutting-edge techniques to tackle these issues head-on—ensuring your property's long-term integrity and beauty.
Unmatched Quality and Results
We go the extra mile to provide exceptional quality and exceed our client's expectations. We understand the devastating impact of termite damage on homes in terms of safety and appearance. That's why we deliver outstanding results that you can rely on.
Personalized Solutions with Care
Our highly trained professionals will accurately assess the extent of the damage and create a customized plan tailored to your needs. We pay meticulous attention to every detail throughout the repair process, ensuring your property receives the utmost care.
Utilizing the Latest Techniques
You can rest assured that your property is in the hands of experts who use the latest advancements in the industry. We employ state-of-the-art techniques, tools, and materials to achieve superior—long-lasting outcomes.
Restore Your Property's Integrity Today
Don't let termite damage compromise the safety and value of your property any longer. Contact us today to schedule a consultation with our experts. Together, we will restore your property's integrity, protect it from future damage—and ensure a beautiful and resilient structure for years.
We Only Partner with The Best
Whether or not we are residing in your home or repairing dry rot, window leaks, siding, and termite damage, we only work with the best construction materials. Our siding repair crews are factory-certified DuPont Tyvek and James Hardie Siding Installers to ensure your dry rot repair and termite damage is repaired with the best workmanship and products available. Get your job done right with SFW Construction.