Dry Rot Repair Process
We get a lot of questions on how our crews operate for siding repairs and wood rot repairs. The following infographic (print and share with family and neighbors) details how we do it.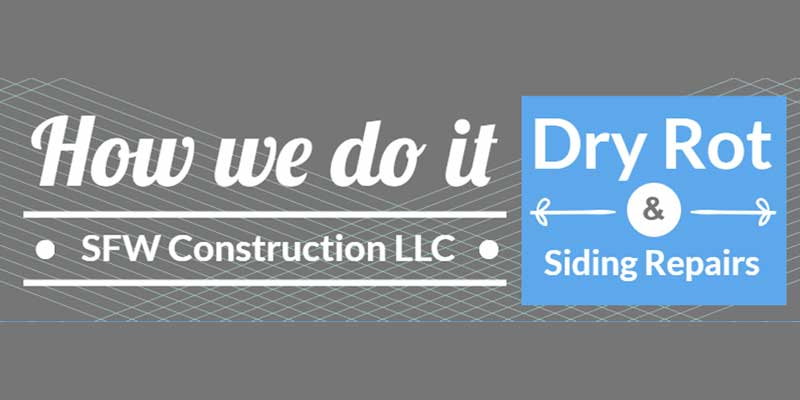 On many small jobs, it may make sense to send a crew out to diagnose and repair your home. Here is a little more about how we run our small repair jobs! Feel free to call or email us with any questions! Our dry rot repair process – for small dry rot repairs our crews come to your home, diagnose, and fix it on the spot! Serving the greater Pacific Northwest from Portland and Seattle. Cut and remove siding, find damage, determine the proper fix, and put up new materials and moisture barriers properly to prevent it from returning. Replace siding and color match it or paint it so it looks good as new. No more moisture, mold, mildew, leaks or dry rot! Fast guaranteed warranted for lasting protection.
How Does SFW Construction Handle Dry Rot?
Here are the steps of our dry rot repair process:
1. Inspection
Walk the grounds, inspect the area and prep the work area.
2. Discovery
Remove the siding and determine source of leaks and extensiveness of the problem.
3. Repair
Remove the effected wood, replace it according to local codes, and prevent water from returning through proper application of weather barriers.
4. Cleanup
We take pride in making sure the area looks great and there is no mess or hazards for your family, pets and neighbors.
5. Follow up
Do you have questions or concerns? Have the stains, odors and sounds associated with the dry rot and water leak problems subsided?
We'll arrive promptly at your job site at the time scheduled. We'll conduct a walk through with you, discuss scope of work, and set up a direct line of communication.
Long term solutions come from understanding underlying issues. If the scope of work changes, we'll notify you before continuing work. Text, Email, Photo updates are all part of the process to keep you informed.
After getting approval, our teams of carpenters will quickly and efficiently make repairs to your home. Repairs made to your home are fully tested and guaranteed 100%.
You don't have time to clean up after messy contractors. We'll leave your property cleaner than we found it. Keep in mind should your project need painting, we have a top rated exterior paint division ready to match the siding or paint to make it look good as new, without having to hunt for any other contractors!
We're committed to protecting your home. Through rain or shine, we'll check in periodically to make sure your repair is meeting your needs and are always available with any questions or concerns on any project.