Five Popular Siding Options For Your Home
Stucco Siding reigns supreme in the Southwest and Southeast, while it's somewhat rare in other parts of the country. Vinyl Siding is still a popular choice and will likely remain so due in part to its low cost, but it's losing ground to Fiber Cement Siding. Homeowners still covet the regal look of Brick Siding and only 2% of new homes are sided with Wood Siding these days, as homeowners opt for ease of maintenance over aesthetics.
When it comes to siding options, the type that's best depends on your personal tastes and priorities. Our infographic below details 5 popular siding options each with pros and cons. Click on the image below to view.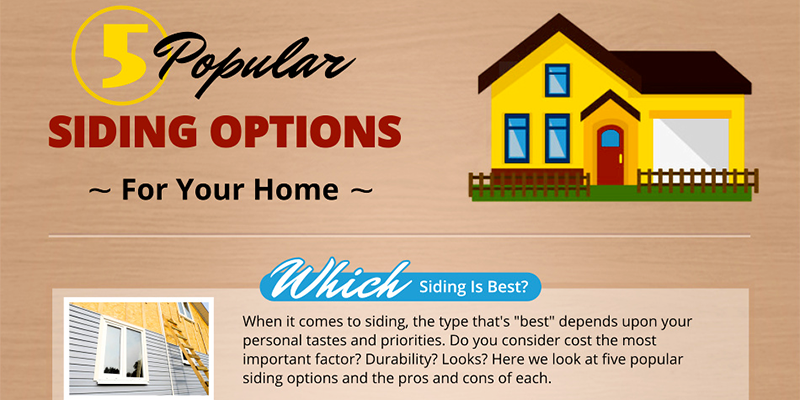 Factors To Consider When Contemplating Siding Options
Durability
Some siding options, such as brick and stucco can easily last a lifetime, while wood, for example, might only last 15 years or so, depending on climate and maintenance. The various siding materials are prone to developing different kinds of issues, such as dry rot, insects, peeling, and cracking. All of which can affect durability.
Ease Of Maintenance
The time, effort, and cost of maintenance necessary to keep the siding looking good and to maximize its lifespan is an important consideration for many homeowners. Some siding materials need little more than occasional washing or hosing off, whereas others require relatively frequent staining or painting repairs.
Energy Efficiency
The metric commonly used for rating energy efficiency for siding options is called R-value, which measures thermal insulation. The higher the R-value, the better the energy efficiency. While the overall energy efficiency of an exterior wall generally has more to do with what's under the siding (insulation, wall structure, etc.), the siding material itself is a factor.
Cost
Let's face it, the cost is an important consideration for most homeowners when considering their siding options. To have vinyl siding installed on an average-sized, single-level home might cost $5,000 or so, whereas the price tag for brick siding on a large, multi-story home could reach 10 times that amount or more!
Comparing Siding Materials
Vinyl Siding
Vinyl Siding is a popular choice because of its affordability. Maintenance consists mainly of occasional cleaning. SFW Construction does not recommend this siding option in the Pacific Northwest because it doesn't have a water-tight seal. Without that seal, water can enter the materials behind the siding and begin to cause surface dry rot and structural dry rot problems. We perform vinyl siding repairs all the time, but won't bid on complete vinyl siding projects.
Wood Siding
Wood siding comes in several styles, including channel, lap, board and batten, tongue and groove, and shake. Maintenance is generally high, as wood requires staining or painting every few years in order to last and look great.
Fiber Cement Siding
Fiber cement siding can have the look and durability of wood with the susceptibility to dry rot, bugs, and fire. Maintenance is moderate and generally consists of washing and hosing off as needed. Fiber cement siding only needs to be painted every 5-15 years. SFW Constructions recommends fiber cement siding when we bid new siding projects. It's also what we see most of in the field so we've become experts at integrating new siding into existing materials. James Hardie Siding is the industry leader here and we recommend this siding option for every project we do.
Brick Siding
Despite its high cost of installation, brick siding is still a favorite of homeowners due to its exceptional durability, low maintenance, and curb appeal. Brick is sturdy, non-combustible, and immune to rot.
Stucco Siding
Stucco siding is another durable material with Spanish-style aesthetics and low maintenance requirements. Just a hosing-off now and then is usually all that's necessary to keep stucco looking good for decades.